Equality and Equity: Rights Respecting School and GEC
At Hazelbury Primary School we are committed to ensuring that both the UN Convention on the Rights of the Child and global citizenship are central to our core values and ethos.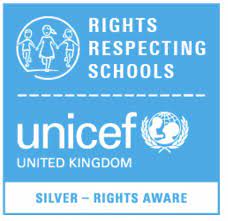 Rights Respecting
Every child has rights, whatever their ethnicity, gender, religion, language, abilities or any other status.
We are a UNICEF Rights Respecting School and proud to have achieved the 'Rights Respecting Silver – Rights Committed Award'.
We are now on the journey to achieving the Rights Respecting Gold – Rights Aware Award. This involves learning about children's rights, learning through children's rights, and working for the rights of other children who may not enjoy the rights that we do.
As duty bearers, we ensure children's rights are respected, taught, practised, protected and promoted. They are encouraged to become active and involved in school life and the wider world.
The four keys areas of impact for children at a Rights Respecting school; wellbeing, participation, relationships and self-esteem are in line with our curriculum drivers and school ethos.
What is a Rights Respecting School?
A UNICEF Rights Respecting School puts the rights of a child at the centre of its ethos and culture with a focus on improving well-being and enabling all children to realise their potential.
Rights Respecting Schools promote the importance of pupil voice enabling children to feel heard and confident within themselves.
The Rights Respecting School Award (RRSA) recognises achievement in putting the United Nations Convention on the Rights of the Child at the heart of school's planning, policies, practice and ethos.
We are also part of the Global Equality Collective and are striving for equality and inclusion to be ingrained in all areas of school life.